Your cabinets play a vital role in the ease and efficiency of your daily routine, supplying your home with localized storage and easily accessible organization. They store just about everything we like to use in our homes — dishes, cookware, office supplies, and anything else you might use daily, and they make the necessary but repetitive tasks we do every day a little bit easier and quicker. But because of how accessible they need to be, they need to be out in the open, yet hidden in plain sight. For many homeowners, the aesthetic of their home interior is just as important, which means easily accessible cabinets need to look good within the interior design as well. Finding a balance between ergonomics that support your daily routine and stylish design that compliments your interior aesthetic is much easier said than done.
That's where Johnson Cabinetry and Refacing comes in. We understand the importance of well-functioning and easily accessible cabinets, but we also understand the importance of cabinetry that looks good and feels good in your home design. That's why we strive to make the best quality cabinets that offer highly effective function, without sacrificing any style or thematic design. We have proudly served the Front Range area in northern Colorado for years, and we would be happy to offer our cabinetry services to you. Keep reading to learn more about our cabinetry services, and how they can serve your needs!
Why Are Cabinets So Important?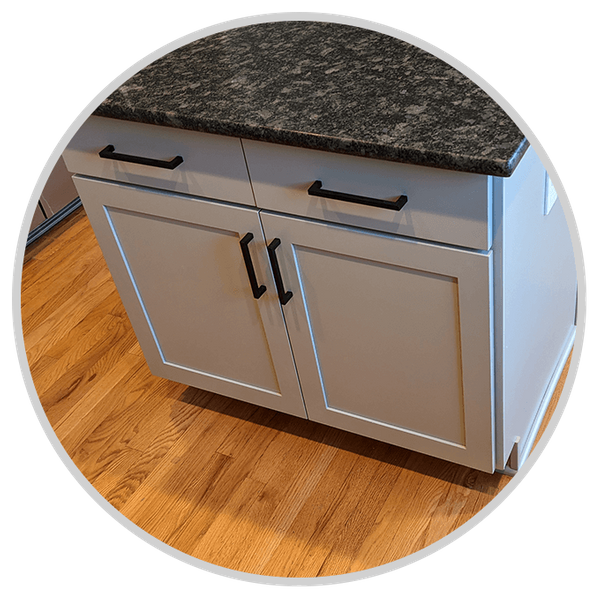 For any homeowner, there is a certain process that you undergo when you move into your new home of not knowing where everything you own is exactly. Whether it's a specific tool or utensil that might be buried deep in a pile of moving boxes, or simply lacking the mindless muscle memory of where the plates and cups are stored in your kitchen, adjusting to a new environment and how things are organized is a common experience, especially when you rely so heavily on knowing where things are in your home. We really don't think about it much, but this kind of experience can show us how important it is to know where things are and have reliable accessibility to them for our daily routines and our stability. Oftentimes, we barely have to think where certain things are stored or how they are organized, because we use or access them every day to do necessary tasks, and this ease and efficiency is the lubrication that greases our gears to get through the day.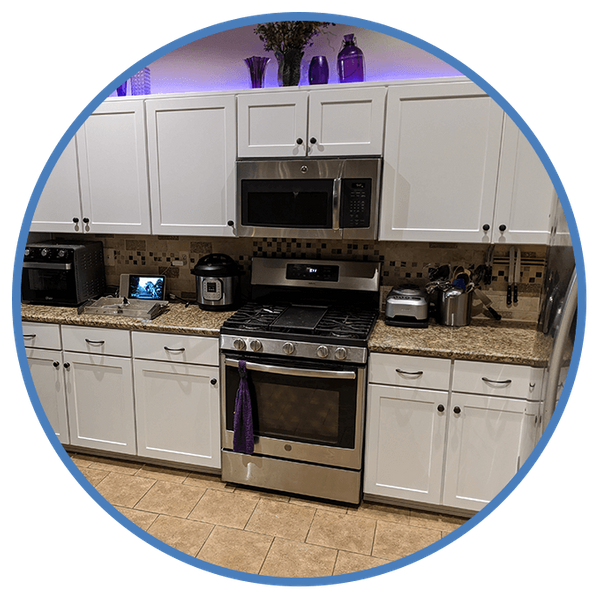 Cabinets are the lifeblood of that ease and efficiency, providing a localized space that stores these important things in plain sight within our home design. Whether it's kitchen cabinets that store utensils, plates, and cookware, or cabinets on your home office desk that store important documents and office supplies, cabinets are vital for maintaining the organization and simplicity needed to complete daily tasks that keep us moving. To provide that level of accessibility, your cabinets need to be out in the open for everyone to see and use, which means well-designed cabinets that compliment your home's aesthetic and blend in plain sight are critical as well. Luckily the team at Johnson Cabinetry and Refacing has all the experience and tools you need to get highly functional cabinetry that also hides in plain sight.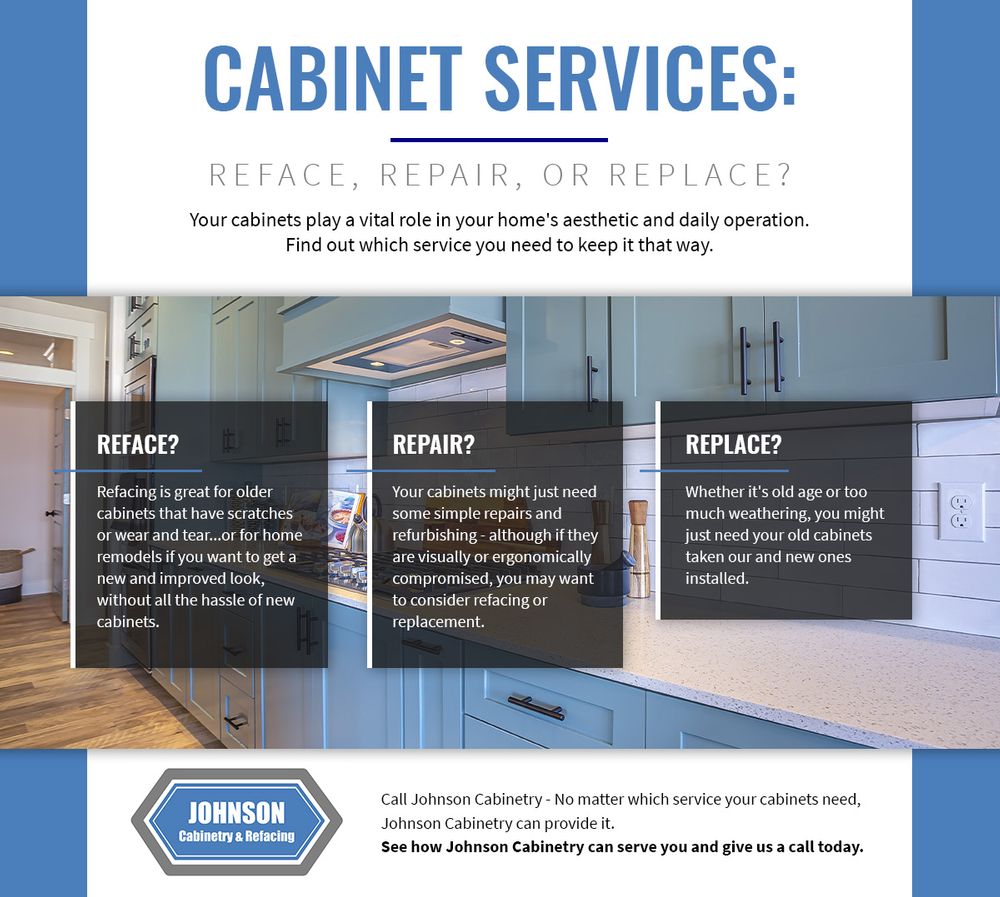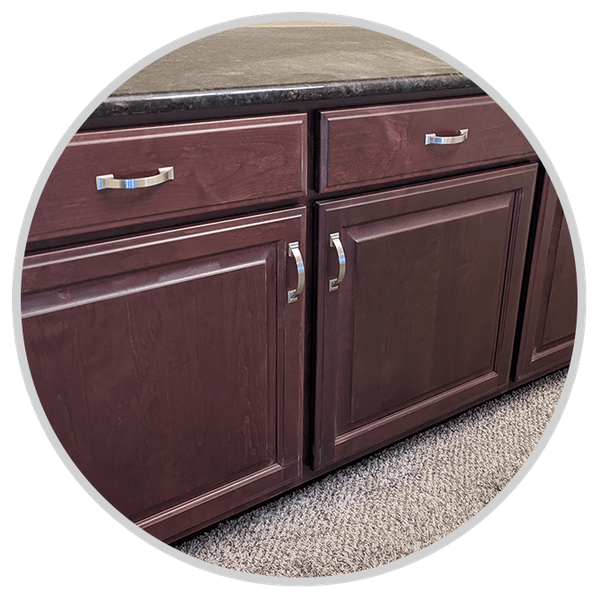 Cabinet Refacing
As you have already read, the aesthetic of your cabinets is just as important as their function and ergonomics. While there are a variety of important characteristics that factor into your cabinet aesthetic, the cabinet face is the most visible and therefore the most impactful on your interior design. That means for any homeowner trying to improve the visual impact of their cabinets, considering a cabinet refacing service might be in the cards. Whether the cabinet face has been scraped and scratched over the years, or you are just looking for a transformation of your interior theme, a cabinet refacing service can give you the power to refurbish your interior design, cabinet function, and the visual impact they offer to your home. And when you utilize the cabinet refacing services we offer at Johnson Cabinetry, you know you are getting quality, style, and reliability every time.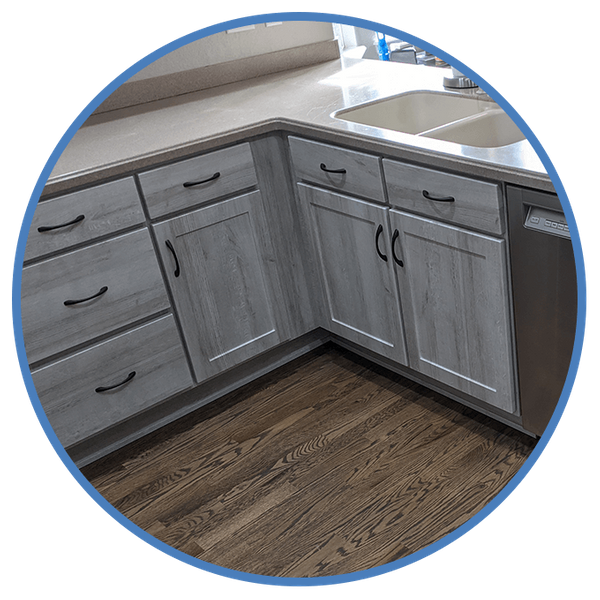 Cabinet Installation
Part of the ergonomic beauty of cabinets is that they are almost always accessible, hiding in plain sight while still providing effective storage space where you needed most. But because they hide in plain sight all the time, you may not consider how much work and professional expertise is required to install cabinets in the countertop and walled recesses they reside in. There are a variety of reasons you might need to have cabinet installation services, whether it's due to a new home you've moved into and are looking to furnish and remodel, or because your current cabinets have simply hit the end of their life span and need to be replaced. For a job this in-depth and important, you should only rely on quality, professional cabinet installation services, like the ones we offer at Johnson Cabinetry. With a trusted professional at your side, you can feel confident about the cabinet design, selection, and installation that will serve you and your family for years to com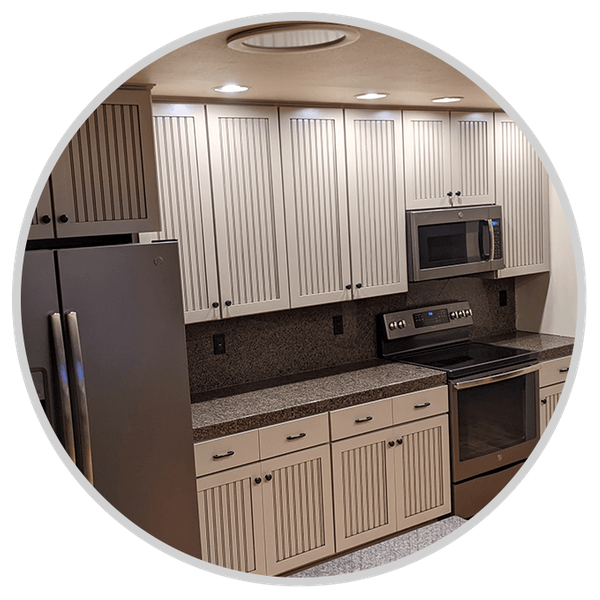 Custom Cabinets
For any homeowner, a large part of enjoying your home and your legal possession of it is being able to furnish and customize it in any way you want. Whether it's the layout of your living room or the color choice for your home's interior design, if it's going to be your place of residence for the next X amount of years, you want it to look and feel exactly the way you want. Custom cabinets can be a great part of that personalization process, giving you the freedom to experiment or supplement your interior design with high-quality custom cabinets that you will use every day. But crafting and installing your own custom cabinets with professional design and quality isn't very possible, which is why you need a trusted custom cabinet specialist in your area that can create the designs you envision. At Johnson's Cabinetry, our team will work with you to understand exactly what you desire out of your custom cabinets, and how our team of cabinet specialists can bring your ideas to life.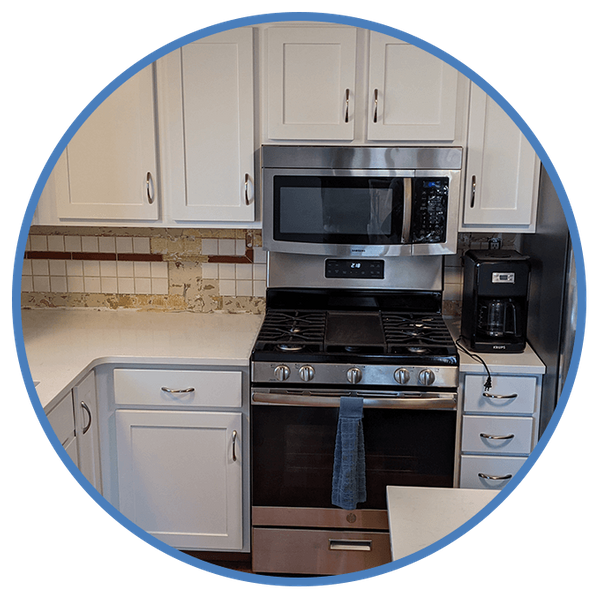 Kitchen Cabinets
While many homeowners have cabinetry in a variety of places in their home, pretty much every homeowner has a majority of their cabinetry located in their kitchen space. And understandably so, as your kitchen is the place where you need a wide variety of utensils, dinnerware, and cooking ware, all ergonomically efficient and all within arms reach. But for many folks, their kitchen is also an aesthetic source of pride, complimenting the rest of their home's design and theme. But you do not need to sacrifice one for the other. With high-quality kitchen cabinet design from a professional cabinetry service provider like Johnson Cabinetry, you can get the reliable and ergonomically efficient cabinets you need in your kitchen space — without sacrificing aesthetics or style to do so. Our team of professional cabinetry specialists will find the right cabinet for your needs, and the style and design of your kitchen layout.
Reface, Repair, or Replace?
If you are looking to have some work done on your cabinets, you have a few options in terms of what kind of service your cabinets may need, and what is the best service choice for your needs. If your cabinet has some visual or functional issues, you might be better off with a repair or a refacing service; however, if it's really bad, you might need to consider a full-on cabinet replacement. Check out the graphic below to get a better idea of what service you need for your cabinets, and how Johnson Cabinetry can help.
Cabinetry Services in Greely - Johnson Cabinetry and Refacing
Your cabinets play a vital role in your daily life, as well as your home aesthetic. Finding the right balance between function and design is crucial for your cabinet setup, whether it's in your kitchen, your home office, or somewhere else of your choosing. That's why Johnson's Cabinetry and Refacing in Greely and Loveland is here to provide you with the cabinetry service you need. We have a team of compassionate and hard-working people who are dedicated to providing quality service for each customer. From custom cabinets to cabinet installation and repair, to cabinet refacing and kitchen cabinet services, Johnson Cabinetry can do it all. Find the cabinet service you need and give us a call today.