Colorado's Premier Refacing Specialists
Johnson Cabinetry & Refacing provides years of experience in cabinet installation and refacing. Our expert cabinet installation technicians will help you modernize and update your home at an affordable price. We offer a wide range of options to fit your style and budget.
Johnson Cabinetry & Refacing
Colorado's Local Cabinetry Specialists
Johnson Cabinetry & Refacing was founded in 2005 with the purpose of helping people achieve their dream homes. Since then we have modernized over 3,500 beautiful kitchens and bathrooms all across Colorado. We take custom cabinets to a whole new level! Refacing your cabinets requires extra attention to detail and provides an added quality of workmanship, allowing us to take it the extra mile while customizing your cabinets.
Give us a call today to set up an appointment to meet with one of our Cabinetry Renovation Consultants!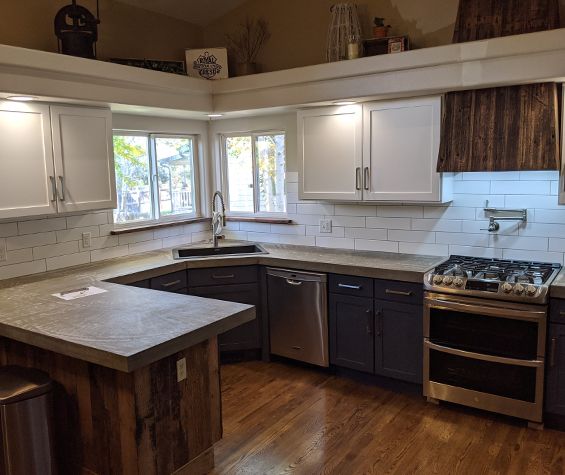 why choose us
Our expert cabinet installers fabricate your custom kitchen from start to finish. By doing this we cut out the middle man not just once, but three times! This saves us time and money which we directly pass on to you our customer! The average Kitchen Reface investment ranges from $4,000 to $15,000, depending on the size of the kitchen and other factors. Call us today to set up an appointment with one of our Cabinetry Renovation Consultants!

I HIGHLY RECOMMEND THIS COMPANY!!!!!
Fantastic service on every level!! We were so happy with the wonderful job that Johnson Cabinetry did our kitchen!! We also had our bathroom cabinets done as well!! Great price range a special Thanks to John and Tony for doing an excellent job!!! Thank you again for updating our home it is just so beautiful to look at every day!!!!

Exceeded All My Expectations!
Johnson Cabinetry did an outstanding job refacing my kitchen cabinets. As a family-owned company, they took great pride in their work. The result is a totally new and beautiful kitchen look. The installers were so easy to have in my home. They were polite and considerate and helpful in working out small details I hadn't considered. I would highly recommend this company!

Outstanding!
I can't say enough good things about Johnson Cabinetry & Refacing. This is by far the BEST contractor I have ever worked with.
In a nutshell: I have extremely high standards and they exceeded ALL of my expectations!!!
For those who want the long version: Carl Johnson (owner of Johnson Cabinetry & Refacing) and his crew are a phenomenal team. The whole process was smooth, fast, and easy. Let me reiterate EASY!
Carl refaced my kitchen, which means all new doors and 1/4 inch real wood covering my old cabinet boxes. I had him change out a couple cabinets for better functionality as well. Looking at the final refacing product after it was all finished FEELS like I have custom cabinets--it turned out better than I ever could have hoped!
Carl was involved from start to finish. He took notes and followed up on every detail. His work was meticulous and the transformation is amazing! Carl is detailed, professional, courteous, excellent communication, creative, and arrives on time. I was never given a "sales pitch" and never felt pressured. Carl and his team always seemed eager to accommodate my extra requests.
My home was treated with the upmost care by Carl and his crew. Normally I get stressed with people in my home, but I found myself completely at ease. The end product on my cabinets was the absolute best possible outcome. They are GORGEOUS!!!
Carl takes pride in his craft. It is easy to see he has found his calling. I am so glad I found Carl and his crew!
Our Work