To Reface Or Replace, What's Best For Your Cabinets?
Find Your Solution With Johnson Cabinetry & Refacing
When you're considering updating the look and feel of your cabinets, you'll have one main choice to make: to replace or reface? Both options have their own sets of pros and cons, and your choice will make a big difference in the look and feel of your home. Whether you're looking for cabinetry services for your kitchen, bathroom, or other areas of your home, you can always count on Johnson Cabinetry & Refacing. Our Greeley team is here to help with all your cabinet needs — from custom-built cabinets to refacing and updating your existing cabinets, we can do it all. Contact our team today to discuss your options and ideas or to receive a free quote. Continue reading today's post to consider some of the options available to you with replacing or refacing your cabinets!

Replacing
The first option available to you is to entirely replace your cabinets. If you have large amounts of damage or you are planning an entirely new layout for your room, this will likely be the best choice for you. When you are unhappy with the way that your cabinets function, or if you don't have enough cabinets for your needs, our team will happily provide you with new, custom cabinets to replace the existing ones. We will partner with you to ensure that these are functioning perfectly to your standards so you have plenty of storage space and also are upgrading the visual design of your home.

Refacing
On the other hand, if you're generally happy with the layout and function of your cabinets, but they are mildly damaged or just don't fit the overall design of your home, it may be a better idea to get them refaced. This is a less expensive process since we will not be installing entirely new cabinets, simply fixing any issues and changing the look of the existing cabinets. Refacing is a great option when you're updating the overall design of your kitchen or other rooms and want your cabinets to match the new look of your home.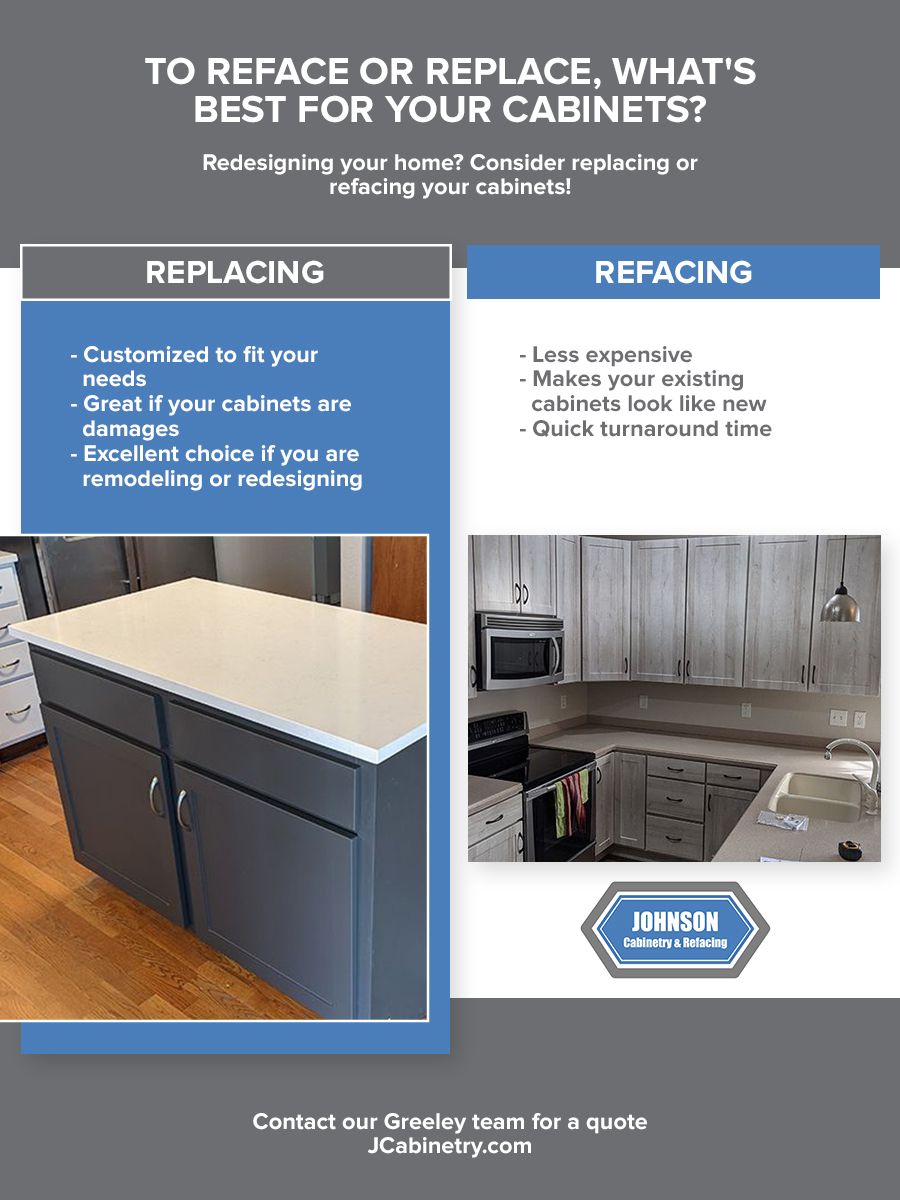 Get A Quote Today
Whether you're choosing all new cabinetry or you're planning to reface your existing cabinets, you can always count on Johnson Cabinetry & Refacing in Greeley. Our team of expert cabinet builders have years of experience in everything cabinets! We can help to design all new cabinets that will look great and function perfectly, or we can partner with you to give you an updated look on your existing cabinets. Contact our team today to get a free quote and to make your home look and feel wonderful thanks to high-quality cabinets! We look forward to working with you soon.