If the kitchen is the soul of the home, and eyes are supposed to be the windows of the soul, your kitchen cabinets could be considered the windows to your home's soul. Whether it's a place to have a drink with an old friend, or the location of your morning breakfast routine, your kitchen gets a lot of use, both ergonomically and visually, and your kitchen cabinets are an integral part of that. Their aesthetic and design is the first thing that anyone in your kitchen will see and probably use, whether it's getting a glass out of the cabinet, or just simply taking in the larger visual design of your kitchen.
For something that is so critical to your kitchen and the operation and aesthetic of your home like your kitchen cabinets, you want to make sure that they look good, they work great, and that you have a team of trusted cabinetry specialists helping you maintain them, like our team at Johnson Cabinetry and Refacing. Whether it's a kitchen cabinet replacement, or kitchen cabinet refacing, our team is here to help. Keep reading to learn how our team in Northern Colorado can help install, reface, or repair your kitchen cabinets, and keep the soul of your home looking and feeling good.
Kitchen Cabinetry Services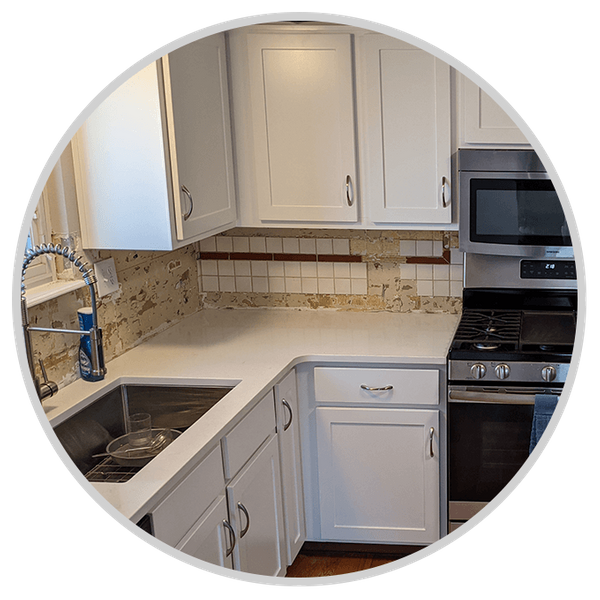 Kitchen Cabinets Refacing
With your cabinets playing such an important role in the look and function of your kitchen, you want to make sure that their visual appearance and structural stability are at their most optimal level. Refacing your kitchen cabinets can be a great way to reinvigorate your kitchen space, whether you are looking for a whole new color scheme and design, or simply want to bring back the fresh appearance of your kitchen cabinets as they looked years ago. As you can tell from our name, Johnson Cabinetry and Refacing has a great team of cabinetry specialists for your kitchen cabinet refacing project. No matter how big or small, we want to listen to and fully understand your design and structure ideas, and reface your kitchen cabinets the exact way you want until your dream becomes a reality. Contact our team to see how we can reface your kitchen cabinets effectively.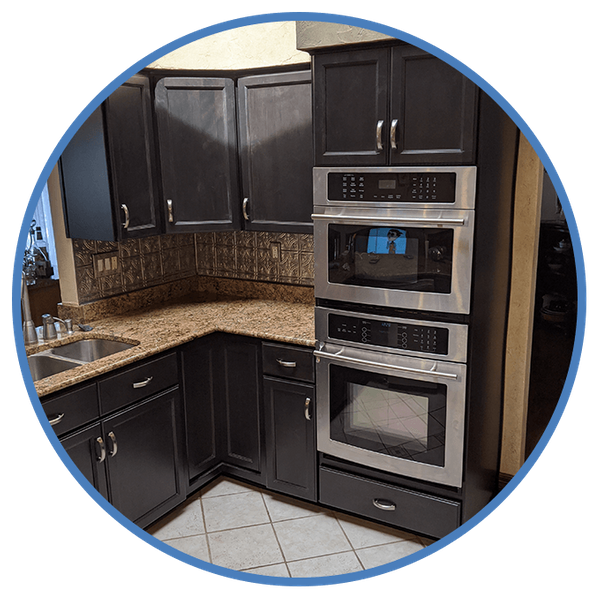 Kitchen Cabinet Installation/Replacement
As much as you might want to preserve the style and theme of your old kitchen cabinets, there comes a point where their age and wear and tear is too much. Whether it's strikingly visible streaks in the stain, large chips in the material, or a squeaky hinge that won't stop squeaking no matter how much WD-40 you spray on it, your kitchen cabinets have a lifespan. And when it's their time to go, they really need to go. That's where our team at Johnson Cabinetry comes in. Our cabinet installation and replacement services are professional-grade and some of the highest-quality cabinetry services you can get in Northern Colorado. We can take out your old cabinets, and work with you to find the best replacement cabinets, both in style and design. If your kitchen cabinets are past the point of repair, contact our team and let us provide the reliable cabinet installation and replacement services you have come to expect.
Kitchen Cabinet Services from Johnson Cabinetry and Refacing
Your kitchen cabinets are a critical part of your kitchen, your home, and your daily routine. So when they are in need of refacing, replacement, or maybe even just an expert opinion on how to spice them up, our team at Johnson Cabinetry and Refacing has you covered. We have been providing reliable cabinetry services to the Northern Colorado area for over 15 years, including cabinet installation, cabinet replacement, cabinet refacing, and custom cabinet services. Whether it's your kitchen cabinets, your bathroom cabinets, or your cabinets that don't even exist yet, our team can provide you with the cabinetry solution you are looking for. Contact us today and see how we can help you